TOSS Verpackungssysteme GmbH & Co. KG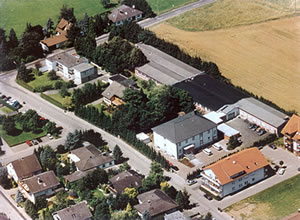 TOSS, in Alten-Buseck, Germany, founded in 1967 by Mr. Franco Toss, is divided into three company sectors.
These are: Packaging Systems, PNEUMATICS, and INDUSTRIAL PRODUCTS, as well as a sister plant, "TOSS Verpackungssysteme (packaging systems) Freital" near Dresden. A workforce of around 170 is employed at the two sites. Future-oriented, innovative developments are to be found in all sectors of the TOSS company:

The Packaging Systems sector is mainly concerned with horizontal and vertical bag forming, filling and sealing machines, from project planning and design through to assembly and sales. Film packaging machines from TOSS are used by well-known customers from nearly all countries in Europe, the USA, Australia, Africa, and many other places.
The second sector, INDUSTRIAL PRODUCTS, produces and distributes expendable parts for packaging machines, as well as components and units for processing thermoplastic films. The products available range from impulse heating lines in all sizes, through PTFE glass fabric sheets and a large variety of silicon rubber profiles.
The PNEUMATICS sector forms the company's third mainstay, and is based at the headquarters in Alten-Buseck. The "Pneumatic actuators", which are now internationally well-known, were developed from a combination of simple cylinder and anti-friction guideway. They are used in general mechanical engineering and also in the construction of jigs and fixtures. Over the years, this business unit has given birth to a large range of pneumatic articles, in consequence of newer and more specific applications and uses, components which are, of course, used in our packaging machines.
At the Freital (Dresden) factory, besides packaging machines, moulded shoulders and format sets are produced for all types of form/fill/seal machines, using the latest CNC production technology. The Hainsberger Metallwerk GmbH (HMW) subsidiary operates a tool manufacturing department for aluminium die-casting and plastic injection moulding tools. HMW has a mechanical production facility equipped with some of the most modern machine tools. The range of products supplied also includes sets of test materials for use in training.