Innovations
1962 - Development of impulse sealing (Tuff-Seal) by Franco Toss. This joining technique greatly reduces the wear on the sealing band. The band itself does not need any time to reach the required temperature; the machine is ready to start as soon as it is switched on. With this system, there is no need for the sealing jaws to be cooled. Even extremely short film bags can be ideally sealed with impulse sealing.

TOSS GmbH & Co. KG, was founded in 1967 by Mr. Franco Toss in Alten-Buseck, Germany. Before the company was established, Mr. Toss was active in the packaging and film processing industry. TOSS Verpackungssysteme began with the project planning, design, assembly and distribution of film packaging machines, used by reputable manufacturers in nearly all European countries, the USA, Australia, Africa and elsewhere. This success is not least due to the TOSS philosophy of developing, producing and distributing all its products in such a way that they meet customer requirements in full!
In 1967, the TOSS INDUSTRIAL PRODUCTS department was established. It manufactures and distributes a wide range of products: expendable parts for packaging machines, components and units for processing thermoplastic films, heater bands, PTFE-glass fabric sheets, silicon rubber profiles, and much more besides.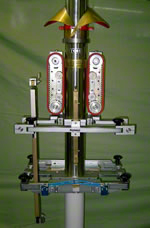 In 1968, Franco Toss developed the toothed belt draw-off mechanism for form/fill/seal machines, which has been copied worldwide. This led to a higher number of machine cycles and thus enabled the product to be packed more quickly, because the mechanical effort in manufacturing bags is much less than with conventional sealing jaw draw-off devices.
In 1982 Franco Toss developed the first packaging machine for tubular films. Thanks to this invention, bags could now be manufactured with just two seal seams (top and bottom seams), enabling a high degree of flexibility in film width and in the product to be filled!
TOSS PNEUMATICS was founded in 1987. In this field, "Pneumatic actuators" are produced, on the basis of a European patent also granted in 1987. Over the course of the years, a large range of pneumatic articles has arisen, due to the ever newer and more specific applications and uses. Up to now, they have been used thousands of times in such diverse areas of application as lifting, moving, fastening, and positioning, and they are - naturally enough - also employed in TOSS packaging machines.
1988 - the TOSS Machine Components subsidiary was set up in the USA. It supplies the TOSS group's full range of products in North America.
1992 - a sister plant was established at Freital, near Dresden. Besides packaging machines, the companies TOSS Verpackungssysteme Freital and Hainsberger Metallwerk GmbH (HMW) primarily manufacture moulded shoulders and format sets for all types of form/fill/seal machines.
1995 - construction of the hot air sealing system. Hot air sealing, patented by TOSS, makes possible continuous and fast bag sealing - and thus a continuous and fast packaging of the product - using a contactless seal. Replacement of the sealing band is no longer needed, which makes the system easy to service.
2004 - the TOSS group employs around 180 people at Alten-Buseck (headquarters), Freital (Dresden) and Nazareth PA, USA. Representatives in a number of different countries help ensure a global presence. For a number of years now, TOSS has been exporting 30 to 35 % of its production.