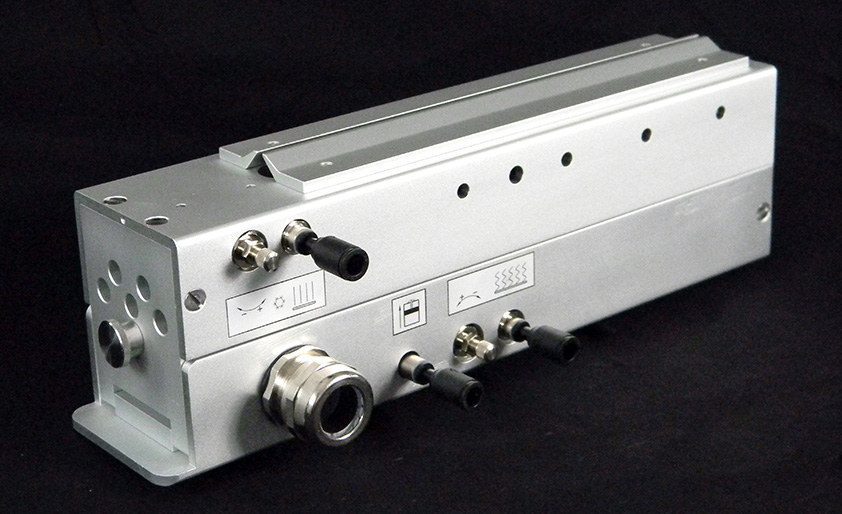 With hot air a contact free and continuous sealing of thermoplastic films can be achieved. This procedure is particular suitable for mono films like polyethylene, but it can be applied as well with any other films (such as laminated films). In contrary to sealing by heating bands, width of sealing seams can be affected only little and is narrow (approx. 2 mm) due to material characteristics, but without restricting tensile strength of the seam.
For operation process, a constant speed of the film is required in order to create even processing conditions in the seam area. Special attention has to be payed to this aspect during intermittent operation.
Heart of the TOSS hot-air sealing unit is the air heater. A tubular heat conductor is equipped with combined connections at its ends for electric power as well as air supply. Along the heated tube body a number of bores is drilled. Electrical current flowing through the conductor will heat up the tube as well as the air passing through it. A precise temperature control will be obtained by changes in electrical resistance of the conductor (PIREG temperature controller). This low-inertia and sensor-free kind of control will allow significantly short warm-up times (< 2 s). Use of compressed air has a positive effect on the sealing seams, also the fan and heating coil being customary with conventional solutions become unnecessary. The system is completely resistant to compressed air outages. As a substitute for the longitudinal sealing bar of tubular bag machines, the device has to be located close to the format tube (see following illustration).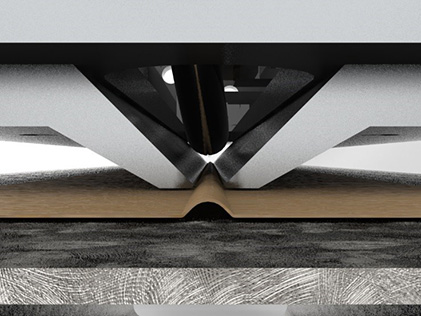 It turned out to be advantageous for sealing results if the film layers will be guided over an elevation within heating area. So-forced film movement is resulting in the desired effect of higher contact force. Anvil at the format tube, hold-down bars and heating element of the tube must be aligned exactly parallel and centrically.
Heating element support is mounted on a single-acting pneumatic actuator serving as a stopping device, which will, when pressurized during operation process, approach the heating element to film. In case of a machine's stop the heating and compressed air supply will be deactivated and unit will be lifted up in order to reduce the influence of residual heat to film. Travel distance of pneumatic actuator can be restricted by an adjusting nut accessible from outside.
For short breaks and for intermittent operation an interruption of compressed air supply will be sufficient.
Short distance between hot air tube and film will be resulting in highest effectiveness, while at the same time a direct contact strictly will have to be avoided, as otherwise deposits at the tube will develop. Operation of hot air sealing units requires dry and filtered compressed air of 4 to 6 bars.
The newest generation of hot air sealing units.

(Europat. – US-Pat.)
In proven standard housing of the large version for vertical tubular bag machines includes a totally redeveloped concept of air heating, allowing a considerable increased power density to be utilized either for higher processing speeds or higher film thicknesses.
Advantages compared to hot air sealing units of the HLS series are as follows:
a constant temperature profile across all nozzle openings

entire flow field is available for sealing process

laminar air flow conditions

modular design: adjustment possibilities to performance requirements are practically unlimited due to nozzle quantity

unchanged short-term response times < 2s until reaching required temperature

a significant smaller cross-section of power cable is required

longer service life compared to conventional hot air tubes
Up to 75m/min heat sealing speed in combination with an exemplary 40micron PE-film!
All versions are equipped with a flow control valve; basic scope of supply contains a 5m connection cable. Some versions additionally come with a cooling air zone for quickly solidifying the welding seam after passing through the heating zone.
The following models are available to cover a variety of tasks in packaging machine construction:
HLS-170-F smallest version with a limited speed range

download techn. drawing (pdf, 174 KB)

HLS-220-F-K compact casing design, without cooling ait zone

download techn. drawing (pdf, 173 KB)

HLS-220-F-G4 large casing design, especially for vertical tubular bag machines, incl. cooling air zone

HLS-220-F-G5 as described above, but with reinforced air heater

download techn. drawing (pdf, 188 KB)

RO-JET

download techn. drawing (pdf, 189 KB)