Technical information on forming shoulder design
Matching characteristics of film and forming shoulder are essential for a fluently and damage-free transformation of film to tube.
Besides thickness and slide characteristics, elasticity of the film will have to be taken into special account during design resp. modelling process of a forming shoulder.
Film qualities with restricted elasticity
· Aluminum-laminated film
· laminated films with Polyester, Polypropylene, paper
Film qualities with high elasticity
· Polyethylene-mono films
· co-extruded multilayer films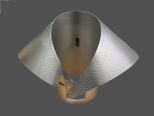 Films with restricted elasticity require a forming edge of mathematical precision, higher elastic film qualities require less precise forms for their faultless processing.
A milled forming shoulder tube will result in optimum transforming geometry. This design is universally applicable and meets even the most demanding requirements.
For simpler applications resp. films with high elasticity we use the body from a rolled tube. Status of elasticity is indicated δB, Milled forming shoulder tube
thus we refer to this design as Delta-shoulders. Advantages of this version are, besides its lightweight, a cost-effective, faster manufacture (= shorter delivery time). gefrästes Formschulterrohr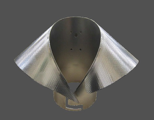 Delta-shoulders can be equipped as well with our tried and trusted wear resistant coatings, just as additional features like "deflection roller at the forming shoulder", "option for changing between overlapping seal and fin seal" etc. of course are available.

We would be glad to assist you selecting the best application possibility for your special requirement.