DELTA shoulders - a quick and inexpensive alternative!
In order to accomplish high quality reshaping of film tubes, the characteristics
of packaging material and forming shoulder must be coordinated.
We achieve the optimal forming geometry for all types of foil or paper with our
proven formats with a milled forming shoulder tube.
For film qualities with high elasticity (polyethylene monofilms or co-extruded
multi-layer films) or for simpler packaging tasks that require less precise shapes,
we manufacture our "DELTA shoulders" series with a body made of rolled tubing.
With these constructions in standard bag widths of 100 to 230mm, elastic film
qualities can be processed perfectly.
DELTA shoulders can be manufactured faster, cheaper and with a lower weight.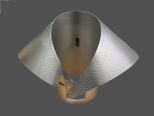 DELTA shoulders – data at a glance:
from bag width 100mm in steps of 10mm to bag width 230mm
mathematically calculated forming geometry
inlet angle 45°
form shoulder flange with standard drilling pattern
possibility to switch between overlap seam and fin seam
Right over left execution as standard
Last pulley is included and positionable or removable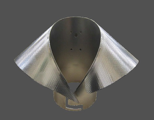 Delta shoulders are also suitable for wear-reducing coatings to increase the service
live or our high quality products. Upon request, we can realize various sizes and versions.
We would be happy to advise you on your project!