Forming shoulders and forming sets

Forming collars as an essential component of vertical tubular bag packaging machines are created by a staff of long-term experience in forming-collar manufacturing using the latest CNC-controlled technology. For construction of these forming collars we use in-house developed modelling programs, which enable realization of collar shapes out of the ordinary. As a standard model we offer forming collars from stainless steel and corrugated steel plate to reduce friction during use.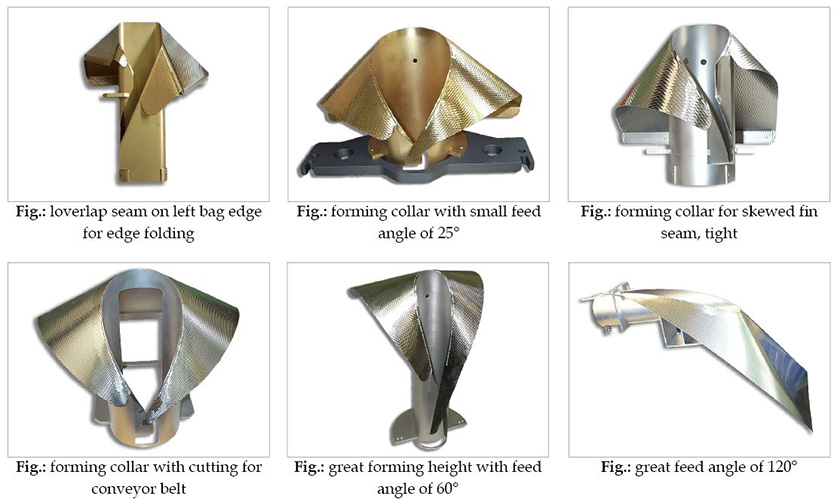 Shapes of forming collars are determined by the application: round, rectangular or polygonal shape. Upon request our forming collars will be coated with Titaniumnitride, Chromiumnitride oder DLC-protection against wear and tear and for longer endurance.
CNC-controlled manufacturing of forming collars even allows a cost-effective single-piece production of forming collars for rather unusual applications from the perspective of a manufacturer of packaging machines. (see pict. 7.9.6 – special forming collar for liners to renovate wastewater pipes).
We supply complete forming sets or components, such as chutes, spreaders, filling tubes, traverses and gas flushing units. Forming sets with lateral edge folding for shaped bags resp. for subsequent edge sealing are also part of our product range.

We supply to users of tubular bag packaging machines from any manufacturer. All relevant details for design and calculation of forming collar geometry are collected by means of questionnaire resp. determined by samples, photos, drawings etc.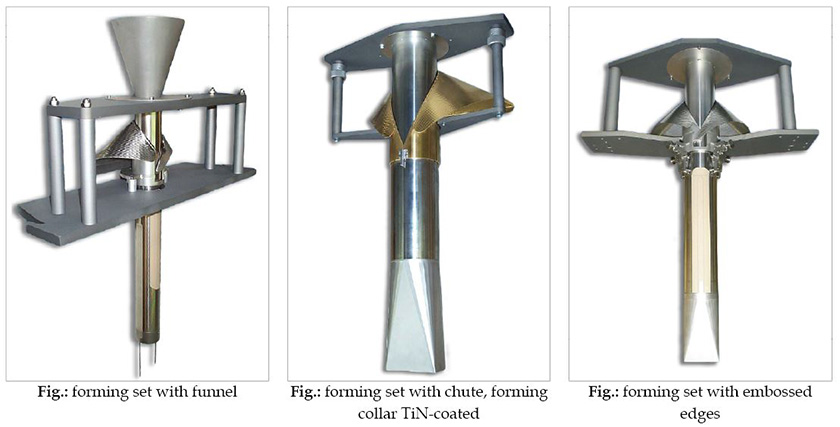 Combination of optimal shape and surface quality results in film forming during a long service life of forming collar/forming set. High-gloss finished surfaces of packaging films will not be affected, ensuring a high quality appearance of the completed bag.