Duo-therm heating bands / type embossing
When sealing gusseted films by the thermal impulse method a problem arises inevitably:
The sealing parameters cannot be set optimally for both the two-layer area and the four-layer area at the same time. The measure that must be taken then are not suitable for all cases.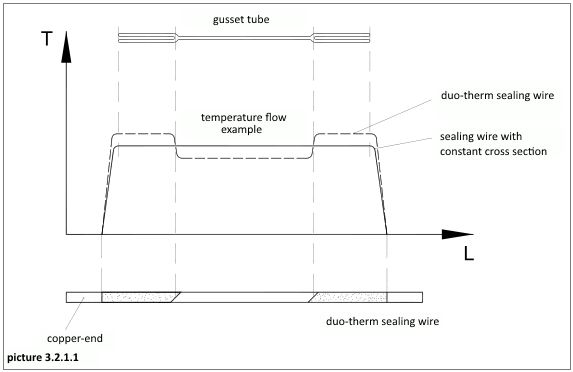 As the sealing times and pressures are the same for all areas, the only way to treat films of different thickness is to adjust the temperature. Duo-therm bands have a smaller cross section for three and four-layers than for two film layers. Consequently, they reach higher temperatures and seal the material securely, while the other areas are not overheated.
Original closing with logo: In the seam area plasticized film allows marking with text, logos or symbols. For this purpose the anvil Silicone strip must be engraved accordingly. Embossed seam shows even small letters with good contrast and readability. The end user can easily identify, that this pouch had been sealed by an OEM or authorized company.
Hollow wires: These wires can be used for flat and cut-off sealing. For this purpose the desired profile is rolled by us according to your specifications. The shaping can also be used as guide, e.g. circular arc section. The advantage of this profile is the smaller cross section and the lower electrical current compared to solid profiles. Inside cooling of the heat conductor with compressed air is also possible. Available from Ø 1 mm on.