PTFE glass fabric films
For its outstanding non-stick properties coming along with its temperature resistance, the soft and wax-like PTFE is holding a special position among plastic materials. PTFE-impregnated glass fabrics offer a considerable higher strength level thus expanding the range of their technical application possibilities. This combination of characteristics is resulting in a special suitability for the use as cover resp. anvil during film sealing processes, as well for numerous other applications due to the sliding resp. non-stick properties. PTFE glass fabrics are safe for the contact with foodstuff. We manufacture a wide range of product types:
on rolls
in sections or cuttings
customized cover sheeting for sealing bars (KB-Band, Cover Strip)
punched parts
welded tubes
Basic material exclusively originates from production of leading European manufacturers. Qualities with reduced PTFE coating are not used for our products.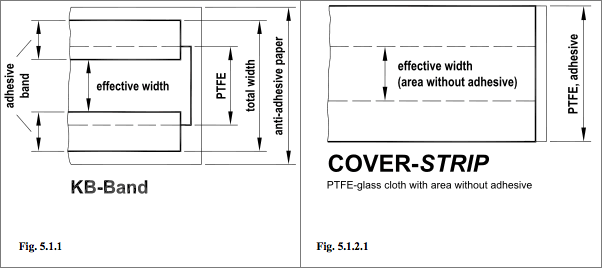 Cover-strip
PTFE glass fabric tapes are available in all dimensions, without adhesive in the centre, so that there is no adhesive creating a barrier for the impulse sealing element thus improving sealing seams.
Cover-strip . . . longer service life
Cover-strip . . . better sealing results
Cover-strip . . . less machine downtime
The impulse band can expand without damaging or creasing the glass fabric.

For special applications:
On high-speed machines, for instance, it is useful to insert the impulse bands into a PTFE tube.
This tube is formed and sealed from flat PTFE-fabric. The heat conductor is simply introduced into the tubular tape. Thermal insulation to the supporting bar is provided by the lower double layer (overlapping seal area).

Advantage: rapid cooling of the heating band.
Data sheet PTFE glass fabrics
Non-adhesive:


Self-adhesive:


Remarks: Adhesive PTFE-tapes must not be exposed to direct sunlight.
Optimum storage conditions at 20°C ±5°C at 45-74% humidity. Adhesive coatings have got a shelf life of six months from delivery. Subject of modifications. Errors excepted.
*according to ASTM D